Our 'Northern Lights' Pop-Up featuring extraordinary Graypants fixtures & decor has finally drawn to a close. Whether you made it in to the studio to experience the show or not, here's your chance to make the magic last.
We're hosting a flash "SAMPLE SALE" at the Archetype Lighting studio on March 10th & 11th. ALL of the Graypants creations featured in our Northern Lights exhibit will be up for sale at unbelievably low prices ranging from 40-70% off list. Plus, we're selling several Lambert & Fils fixtures from a previous pop-up and authentic, never opened/never used Verpan stools.
Though Archetype is normally a "to the trade" business and our studio is typically by appointment only, we're opening our doors to any and all interested in shopping our inventory at the dates / times shown below:
 – Friday, March 10th from 12:30pm – 5:30pm
– Saturday, March 11th from 10am – 3pm
Use this Eventbrite to let us know which date you're coming by to shop!

A Peek at What's on Sale
Pieces from the Northern Lights Pop-Up
We're putting everything from the Graypants pop-up up for sale during our two-day in-studio Sample Sale. Follow us on instagram for glimpses of Northern Lights and the Graypants fixtures featured in the exhibit (here's a few highlights). Everything you see in the reels below will be on sale.
As a bonus, the Northern Lights exhibit is still installed–this sale is your very last chance to experience it all of its epic glory. And, though we aren't selling the No. 8 Lighting recessed fixtures currently on display at the studio, you'll have the chance to see No. 8's latest releases and biggest hits installed at our studio if you visit during the sale. After the sale, we're taking them down to make room for our next show.
 

 

View this post on Instagram

 
 

 

View this post on Instagram

 
 

 

View this post on Instagram

 
 

 

View this post on Instagram

 
 

 

View this post on Instagram

 
 

 

View this post on Instagram

 
Lambert & Fils, too!
Some of the most coveted fixtures displayed during our 2021-2022 Lambert & pop-up show are still available for sale at extraordinarily prices as low as 50% off list. Like the Graypants fixtures currently installed at our studio, the Lambert & Fils pieces in our inventory were all installed once previously but are in excellent condition. Our L&F fixtures are currently packed in their original shipping boxes, but we'll have the boxes out and open to view during the sample sale.
All three of the Sainte pendants pictured in the instagram post below are available for purchase during our Studio Sample Sale.
 

 

View this post on Instagram

 
Watch this reel for a glimpse of the other Lambert & Fils fixtures that were featured in our 2021 – 2022 pop-up. Other highlights from the Lambert & Fils show available for purchase during the sample sale include the polished aluminum Mile Atelier and the brass Laurent 09 pendant shown in the reel.
& Authentic Verpan
We also have BRAND NEW/still boxed Verpan stools available for purchase at the Archetype studio during our two-day sale. This is a rare opportunity to pick up as many as 11 authentic Verpan Series 430 bar stools (the bar stool version of the famed Verner Panton-designed Series 430 chair) with luxe upholstery specs that you won't find readily available through standard retailers. Specs: #192 Harald 3 black velvet Kvadrat/Raf Simons upholstery, black frame. Bar height. Attend the Sample Sale for additional specs and our unbeatable pricing.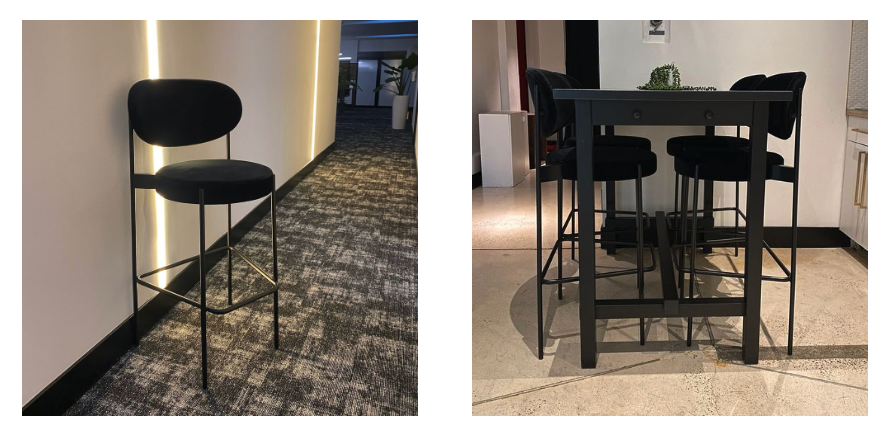 Note: The stools available for purchase during the Sample Sale are new in their boxes. The stools shown in the photos are identical, but out of their boxes because we kept a number of them for use in our studio. The 11 stools that we're selling remain unopened.
Who should attend the Sample Sale?
If you love modern lighting and furniture, you should definitely join us for this sale. The deals are unbeatable.
End users, home owners and project owners are welcome. While much of our inventory is absolute perfection in a modern home setting, this sale may be particularly valuable for someone who owns or is responsible for decorating or staging commercial real estate. Graypants and Lambert & Fils are especially well-suited for commercial applications, and Verpan's 430 is extremely popular in luxury office or hospitality settings. If you're looking for focal pieces for a high-end office environment, a restaurant or lounge, retail space, hospitality environment or hotel, or a bar, you can't miss this sale.
If you're an architect, interior designer, lighting design or other trade professional who missed your chance to tour the Northern Lights pop-up or our No. 8 exhibit, attending the sample sale is an absolute must! After the sale, these two exhibits are coming down to make way for our next big show. The fixtures on display still represent the newest and greatest that Graypants and No. 8 have to offer, and you absolutely should come see them before we take them down. Just be sure to RSVP to the sale date you plan to attend–this way our sales representatives will know we're expecting you, and will be sure to give you a full studio tour, complete with a demo of No. 8's tunable white.
Just how low are your Sample Sale prices?
Our prices are so low, we can't even advertise them online. This is a one-time studio showroom close-out sale for those who come to the studio to see us in person. Final prices will be posted. The % off list varies from fixture to fixture, but we can confidently say that you will not find lower prices for these fixtures anywhere else.
Additional information about our pricing and the sale can be found in the Eventbrite that we're using to collect RSVP's to the sale.
The Venue: Our Studio
Our studio's 1,800 square feet of open gallery space was designed to be the perfect canvas for pop-up viewing opportunities. Clouds mounted to high ceilings in our lobby area are spaced to allow an uncluttered, 360° view of suspended luminaires, showing off both the fixture and the affixing hardware. Our corridor area is lined on one side with spaces that allow specifiers to view pendants and wall-mounted luminaires up close; the opposite side is designed to showcase recessed fixtures at a range close enough to appreciate the hardware, but roomy enough to allow meaningful observation of light.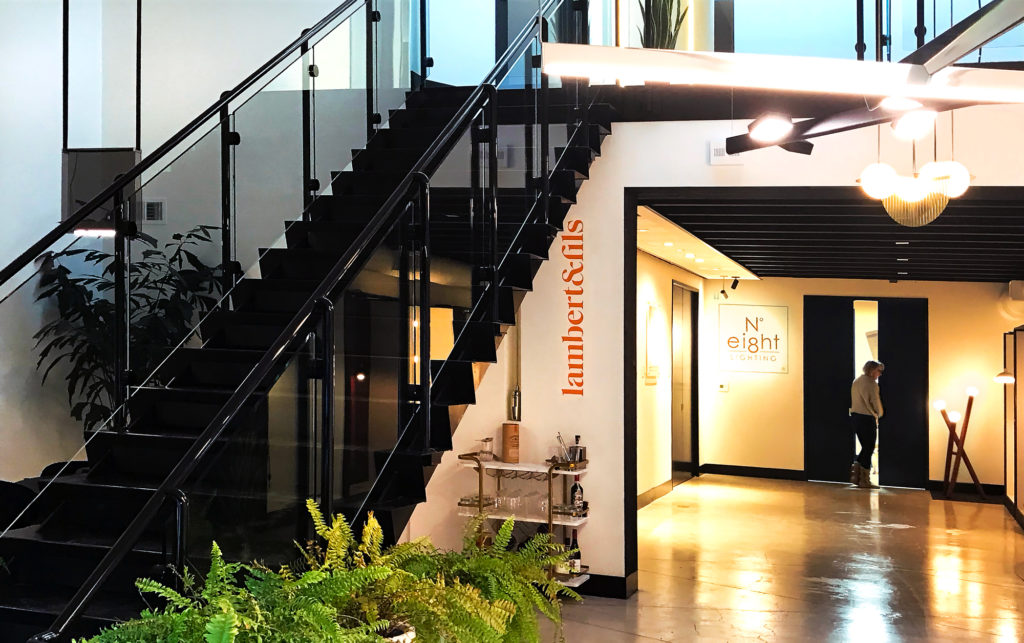 We're conveniently located in the Vermont Center in San Francisco's Design District. Parking is easy, abundant and free to visitors, and our studio is near major freeway exits.
Though we're normally "to the trade" and open for studio tours on an appointment basis, from time-to-time, we invite the greater community of design-loving locals to join us for special events like this two-day sale. Don't miss this opportunity to experience the magic! All who are interested in experiencing the magic or who want to shop incomparable deals on Graypants, Verpan and Lambert & Fils are welcome and invited, but please be sure to use our Eventbrite to let us know which date you'll be joining us to shop.
Wait, why are you taking down the Graypants & No. 8 exhibits?
We're clearing our gallery for a brand new exhibit that will launch on March 30th. This one features Boyd Lighting & ONE A. You can learn more about the launch party and how to RSVP here.

About Archetype
Archetype Lighting is a San Francisco-based manufacturers representative that connects Northern California and Hawaii's professional trade communities with extraordinary lighting brands from around the globe. See our line card for a list of our world-class brands.