A series of new Contardi collections just launched in the North American market. This new Studiopepe collaboration is available now, and it's generating all kinds of buzz in the design world.
About Stick
"Stick" is a collection of elegantly geometric, prism-inspired wall-mounted and suspension fixtures that allow the observer to experience different lighting effects depending on the viewing angle. The collection is a collaboration with Studiopepe, an ultra-chic, Milan-based design and architecture firm internationally acclaimed for its innovative and award-winning furniture, lamp and home decor designs.
People Are Talking
These show-stopping prismatic lamps just launched in North America, and they're already creating quite a stir. Here's some recent kudos, accolades and buzz for dazzling Stick fixtures.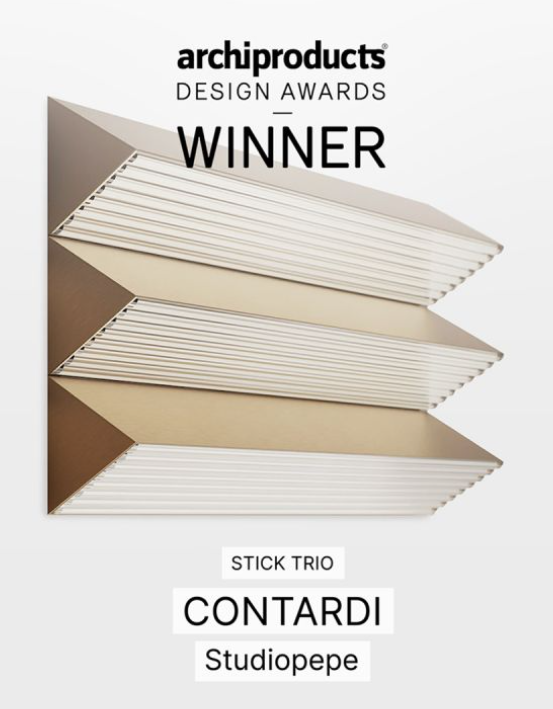 Winner: 2022 Archiproducts Award
Product: Stick AP Trio
The wall-mounted Stick AP Trio's minimalist appearance, visually intriguing design, exceptional quality and lack of visible hardware won Archiproducts over, landing it the top honor for lighting in the 2022 line-up of Archiproducts design award-winners.
Stick AP Trio and the other fixtures in the Stick collection are available in two colors.
Stick AP Trio Data & Specs.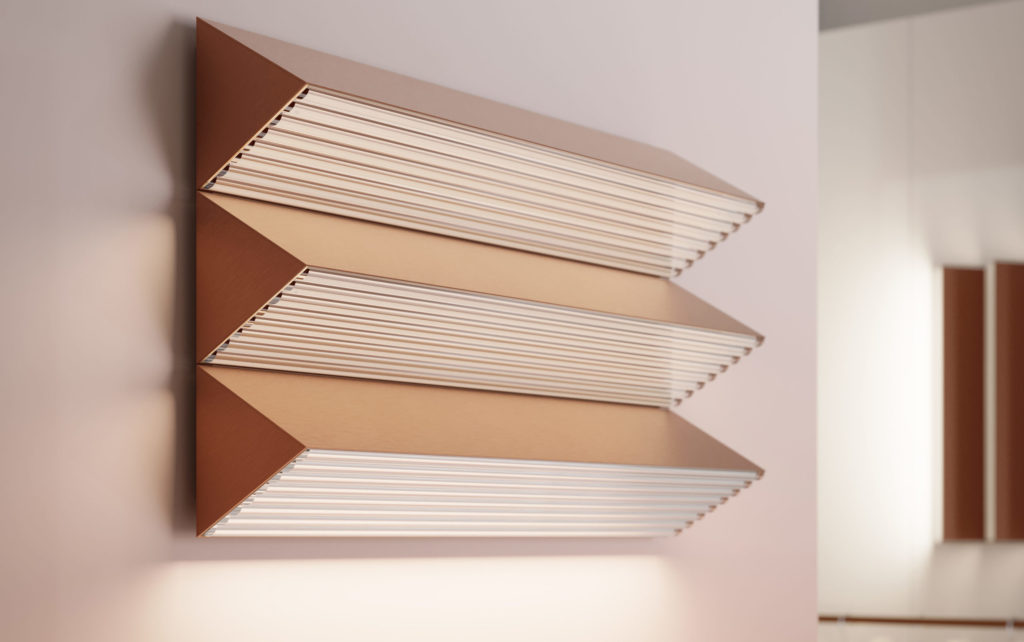 More Buzz for Stick
A variety of design-focused magazines and online publications have recently featured Stick fixtures in their editorial coverage. Here's a few notable examples:
Architectural Digest: The entire collection received a shoutout in this recent installment of Architectural Digest's "What to Spec Now": 11 Design Collabs We're Loving Right Now . . .
Azure Magazine:
Azure prominently featured Contardi's Stick AP Double in a recent profile of "4 Stunning Wall Sconces to Suit Any Style," which focused on the artistic, sculpturesque nature of the fixture.

Plus, they published this deeper dive into the collection's two vertical wall sconces, Stick AP and Stick AP Double.
Sixtysix Magazine: Sixtysix's Lark Breem profiled the full Stick collection in "Studiopepe Turns a Prism into a Sculptural Light."
Explore the Stick Collection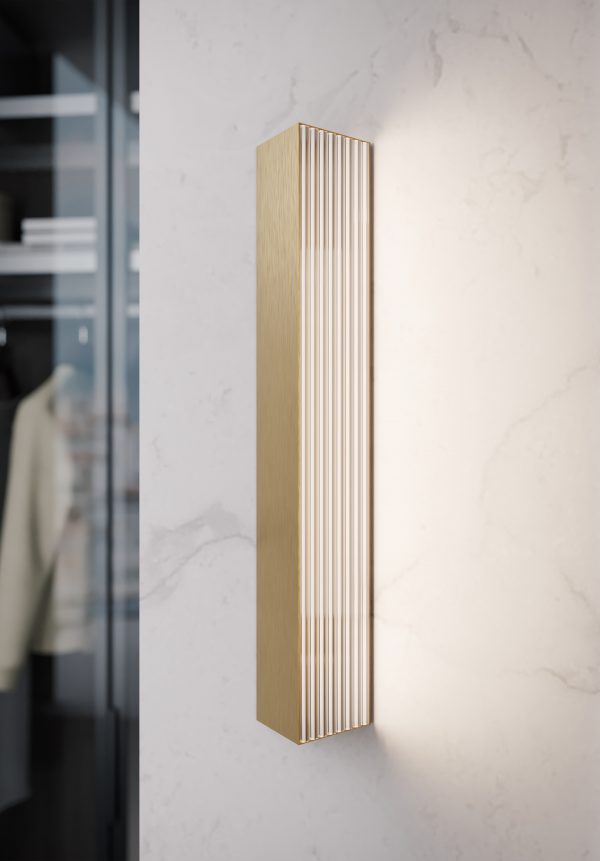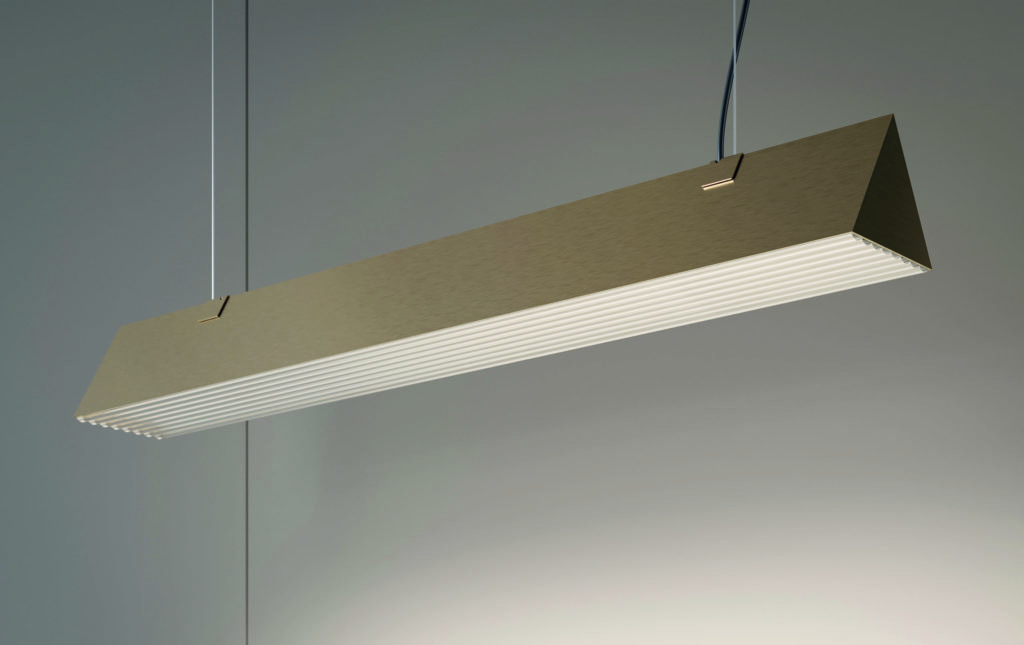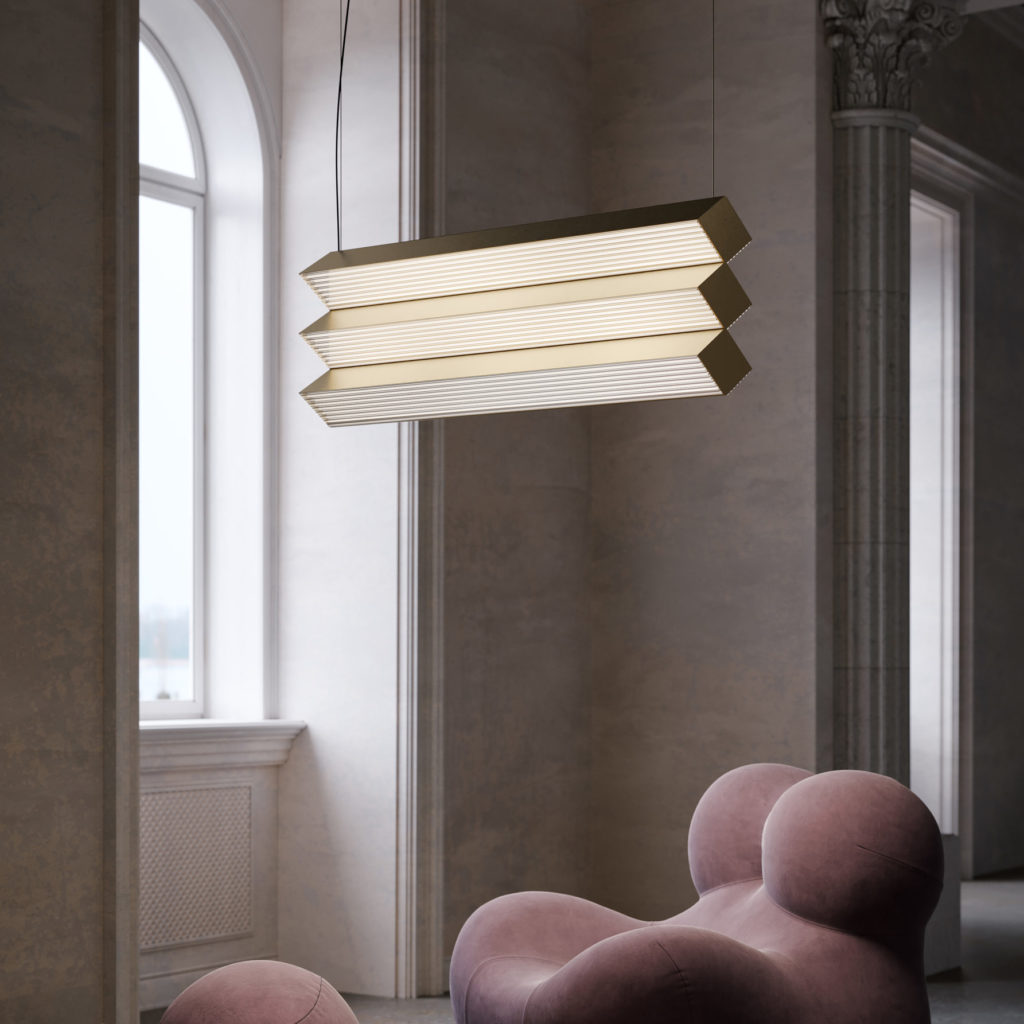 Love this Contardi X Studiopepe Collab?
So do we! It's somehow equal parts modern, mid-century, art-deco and contemporary glam–and we're here for it! These fixtures are perfect for chic residences, high-end commercial spaces and hospitality sector projects.
Ready to bring new Contardi X Studiopepe Stick luminaires to spaces in Northern California or Hawaii? We're here to help.
More New Releases from Contardi
It's a momentous time for this Italian decorative and exterior lighting manufacturer. They began the year with a new logo and a new look, then got to work developing loads of new product launches, including several high-profile design collaborations and two new exterior lighting collections. Now, Contardi is ending the year with a major milestone: the opening of their first ever USA showroom in Manhattan. If you're a Northern California or Hawaii-based designer planning travel to the East Coast, let us know–we would love to help you plan your visit to Contardi's new space!
Stick and Contardi's other new releases are available in the United States. Here's a look at the other exciting and totally new Contardi fixtures now available to spec for Northern California and Hawaii interior and exterior design projects:
Asia
Designer: Federico Peri
Asia is a collection of suspension, table and wall/ceiling-mounted luminaires made from cotton, metal and white opal glass. In all applications, you choose from two cotton shade color options and two metal frame finish options. Finish Options & Product Details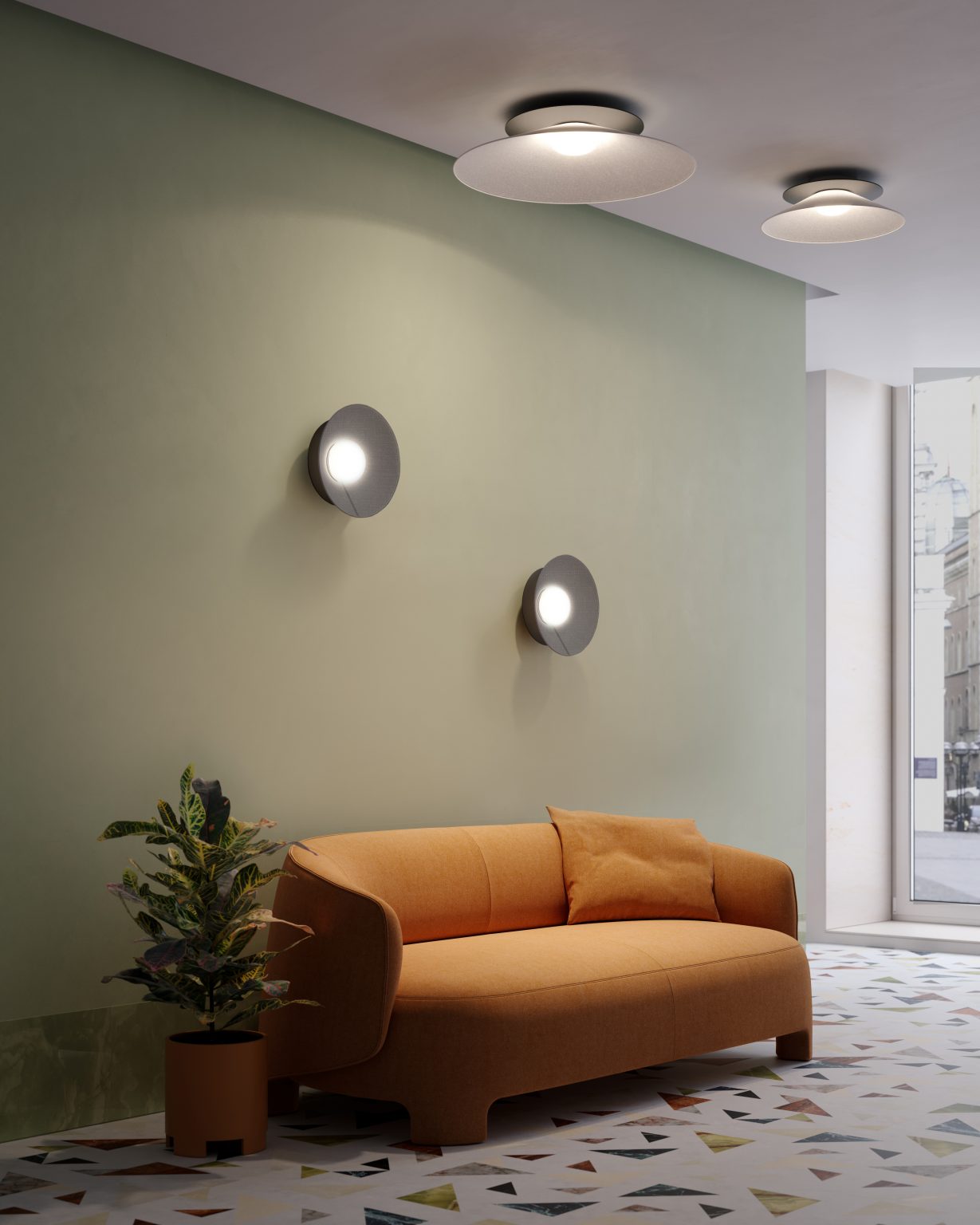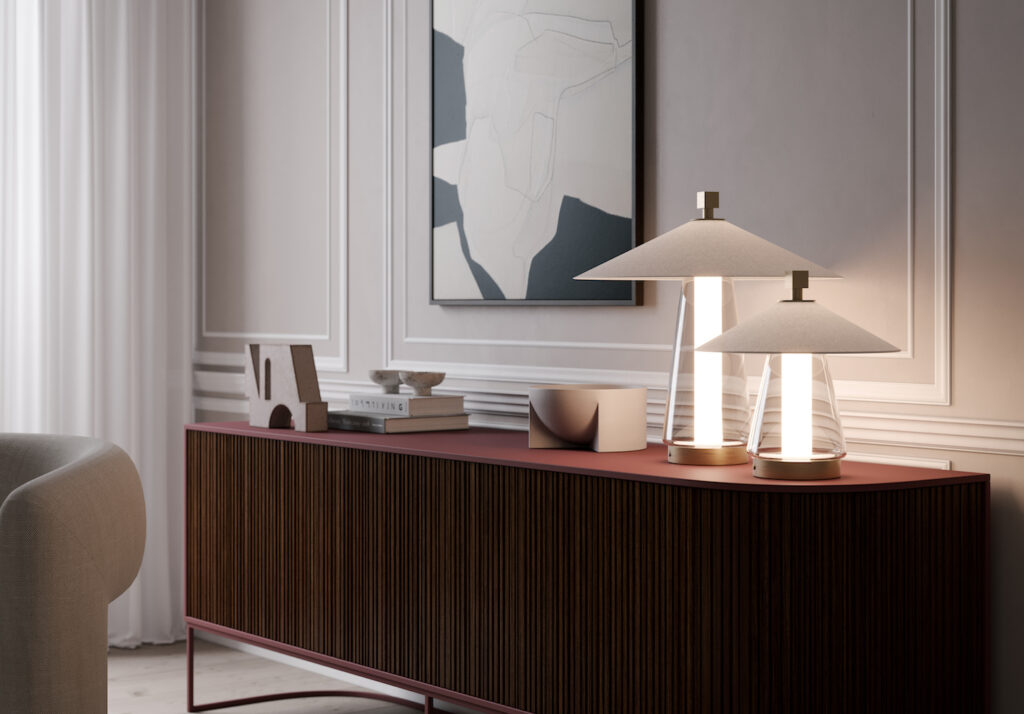 Fly
Designer: Massimiliano Raggi
Designed by Contardi's own Massimiliano Raggi, the new Fly collection is comprised of a linear suspension lamp, two wall-mounted fixtures and a picture light. 'Fly' luminaires feature thin, blade-like light bars and metal frames lined with luxurious fabric. Finish Options & Product Details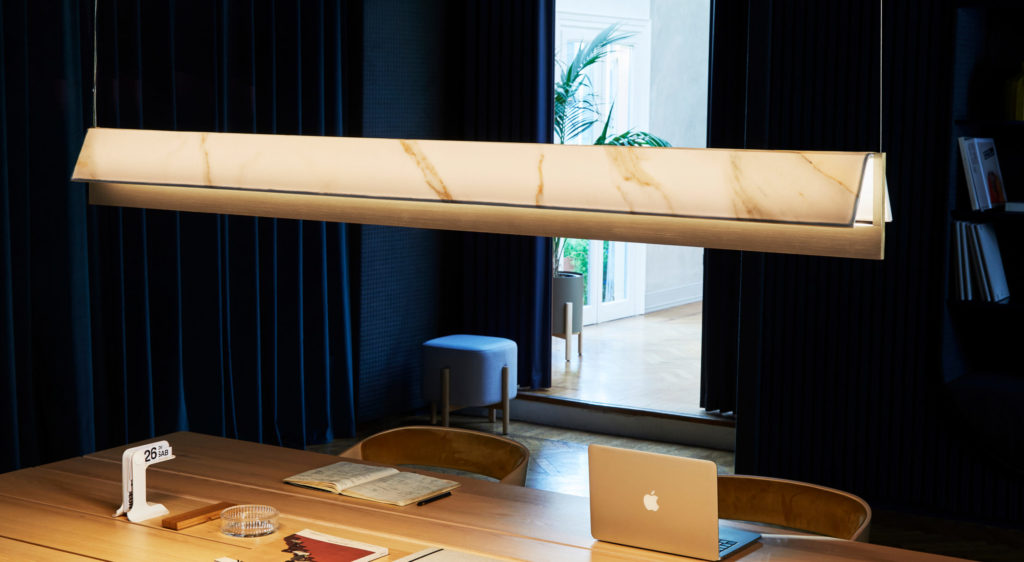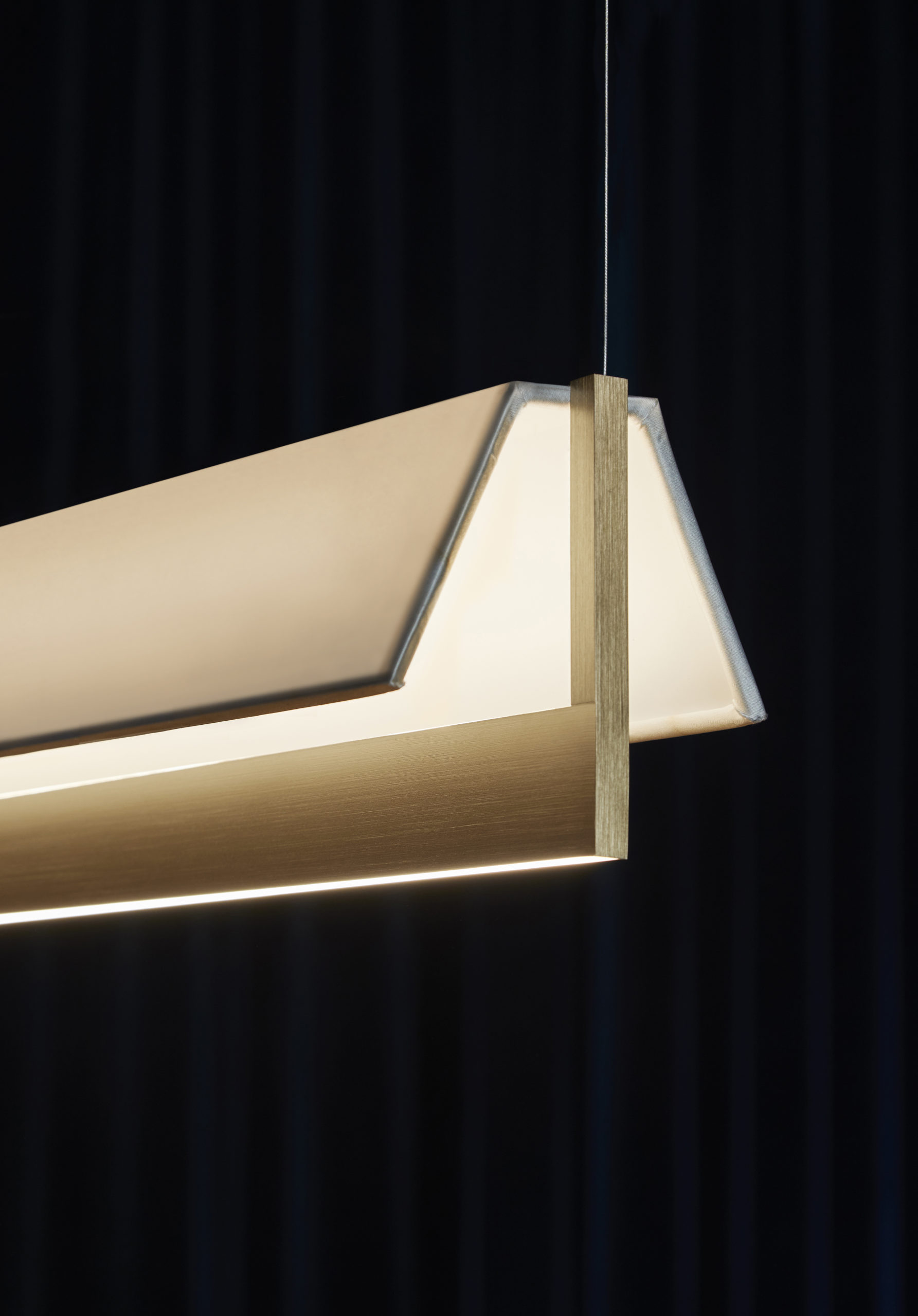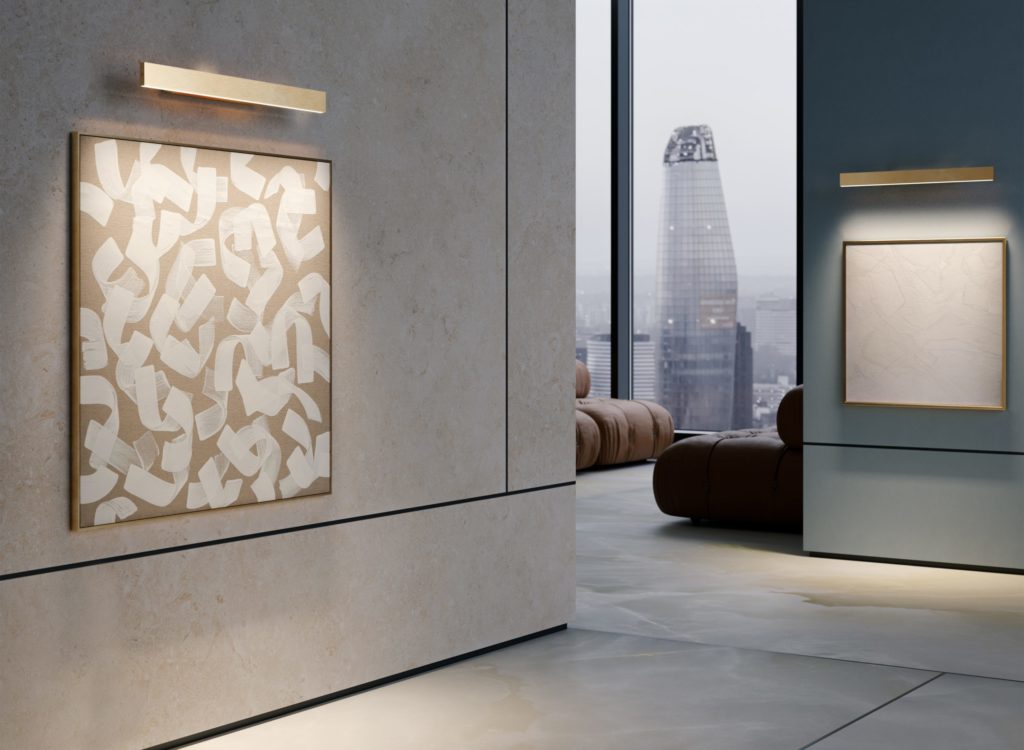 Tenebra
Designer: Jan Van Lierde
The versatility, innovative spirit and cleverness of Contardi's new Tenebra should come as no surprise–it was designed by Kreon's legendary founder, Jan Van Lierde! This new release adds a rechargeable IP65 suspension lamp to Contardi's growing line of outdoor fixtures. Tenebra looks great configured with or without the optional durable synthetic crystal diffuser, which comes in three colors. Order it wired for a permanent, more traditional installation, or go for the battery-powered version, which recharges via a USB-C port and comes with a steel cable that makes it easy to hang the lamp from trees, arbors, awnings, etc.
Finish Options & Product Details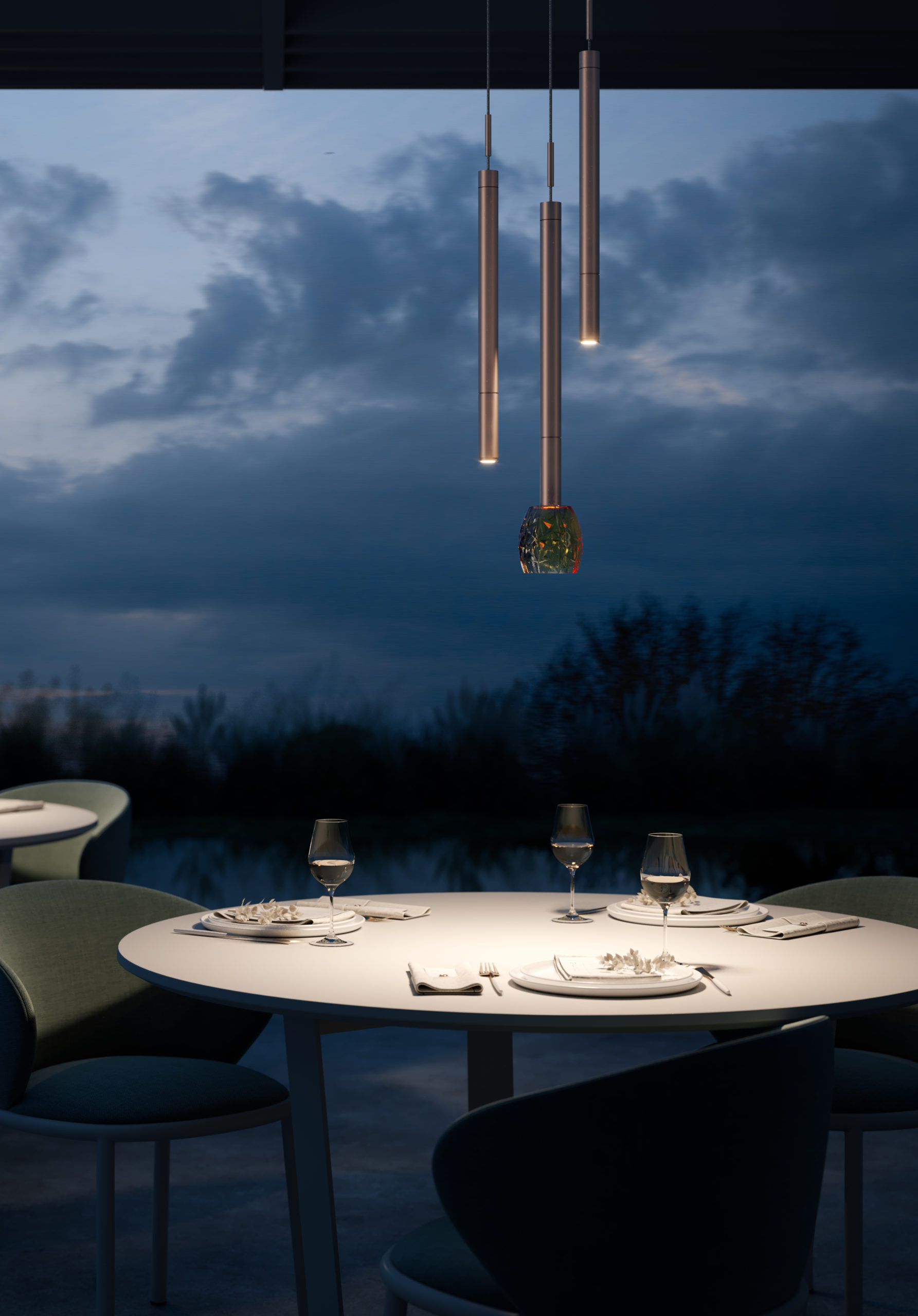 Lagoon
Designer: Servomuto
We're so excited for these playful new outdoor lamps! Designed by the team behind Contardi favorites like the island-inspired Calypso collection and their iconic Arcipelago lamps, Lagoon lamps are the perfect balance of fun and functional. They come in three sizes, with two frame finish options and three lamp shade fabric options.
Finish Options & Product Details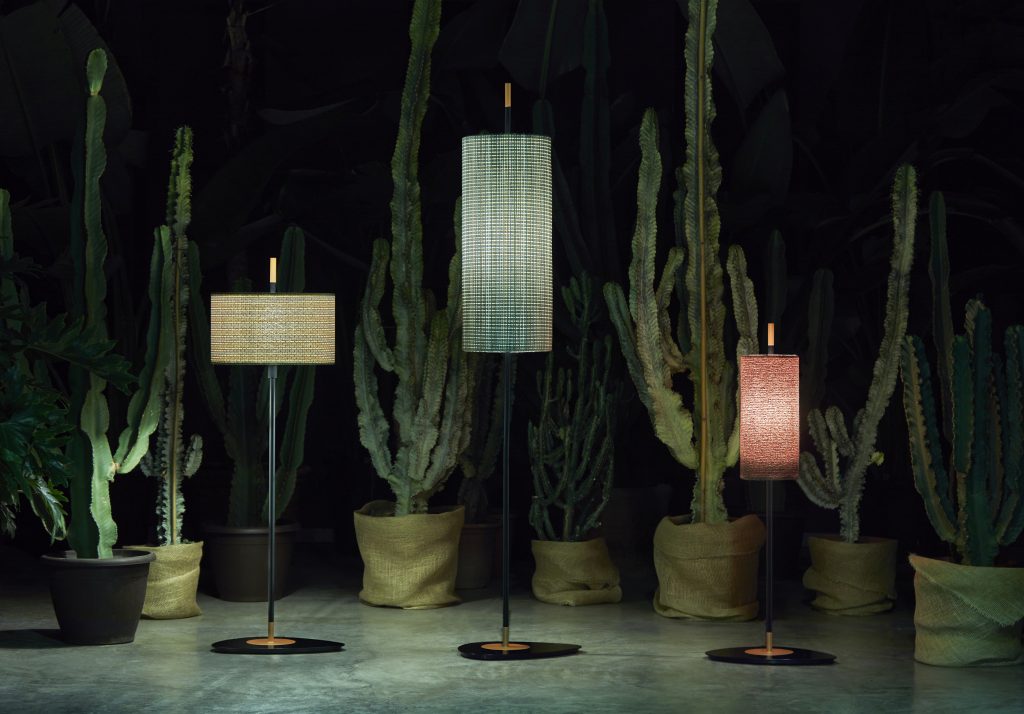 Emma
Emma is an oh-so-elegant collection of wall, ceiling and table lamps bearing an opal white pearl of light affixed to marble base. Choose from Green Guatemalan marble or White Calacatta marble. Designed by Contardi Studio.
Finish Options & Product Details
Discus
Designer: MKV Design
Discus is a bold yet minimalist collection of suspensions, ceiling-mounted and applique fixtures. Different finish and accent colors deliver different looks, adding versatile sophistication to the collection. Perfect for swanky penthouse apartments, high-end restaurants or retail spaces, hotels, and more.
Finish Options & Product Details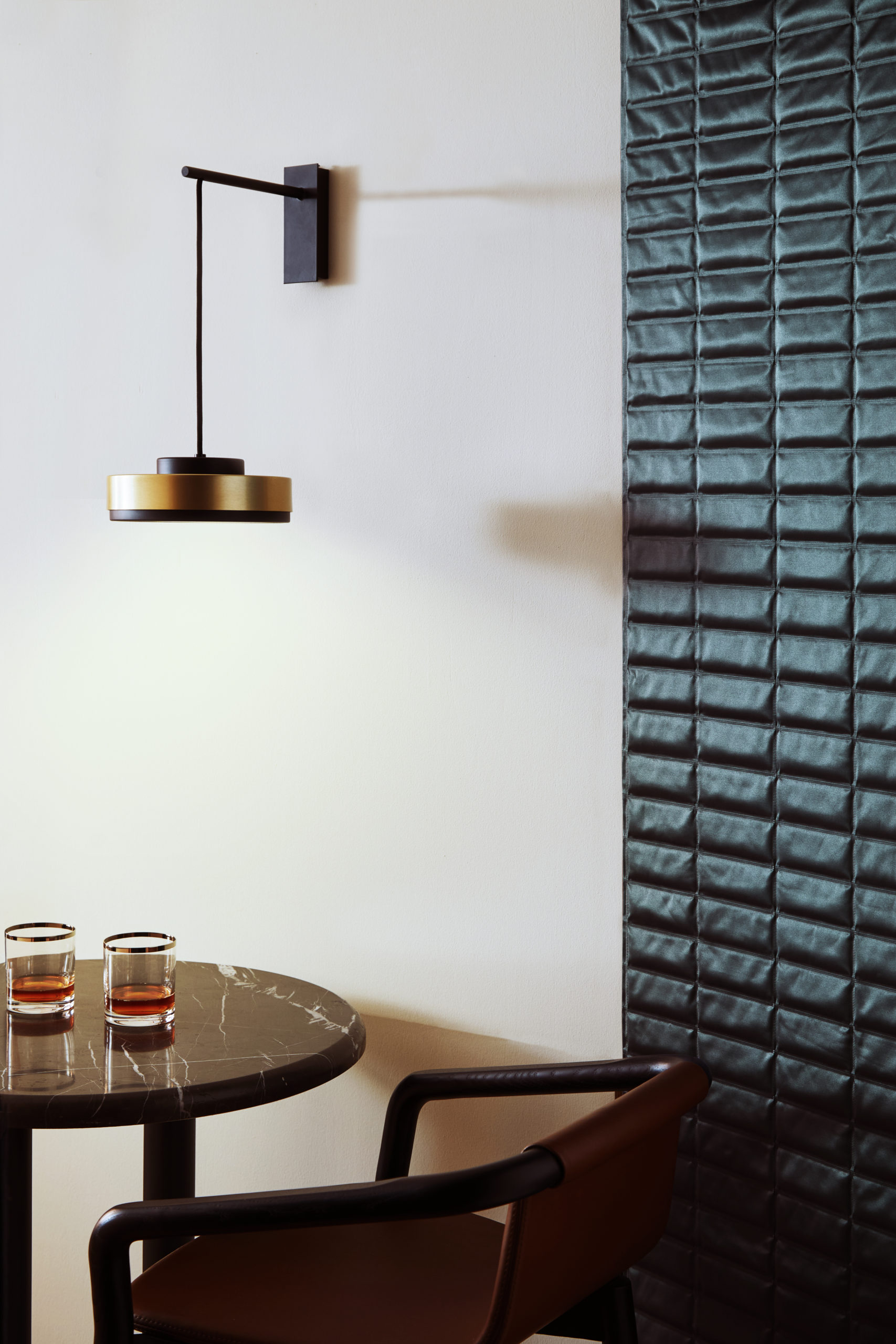 & More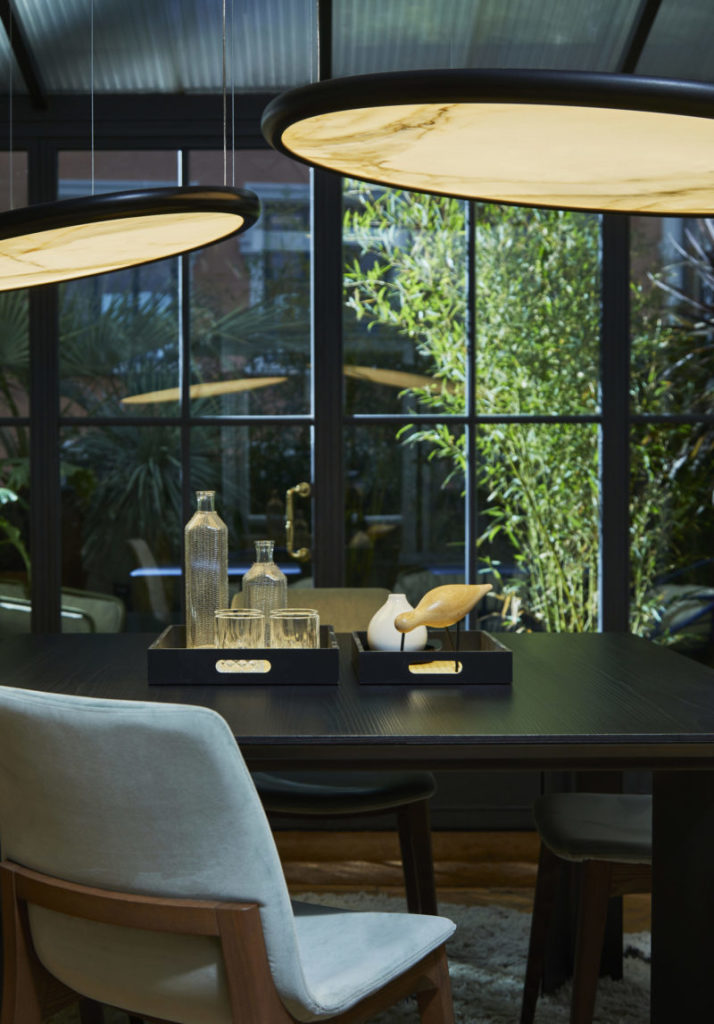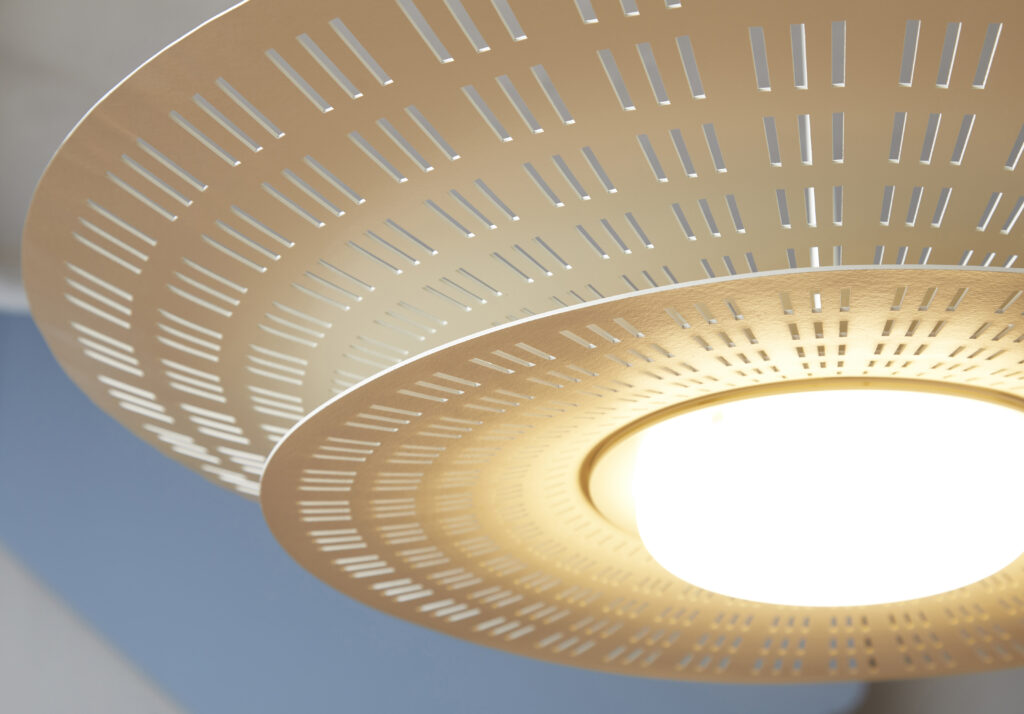 About Archetype
Archetype Lighting is a San Francisco-based manufacturers representative that connects Northern California and Hawaii's professional trade communities with extraordinary lighting brands from around the globe. See our line card for a list of our extraordinary brands.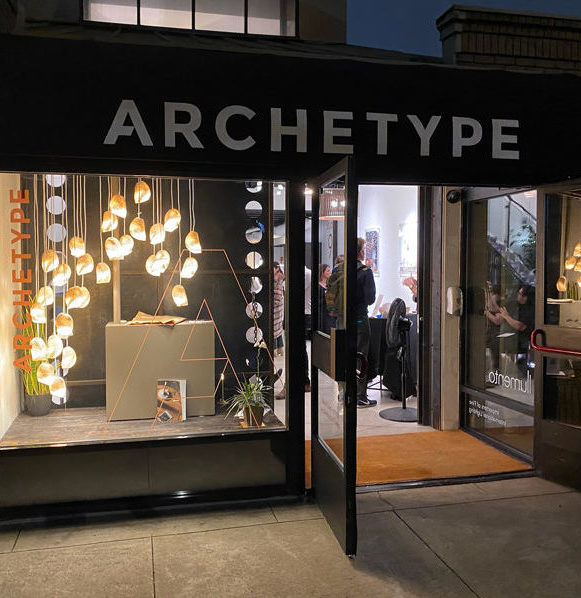 End of Year Schedule
Archetype will close to celebrate the holidays from Friday, 12/23 through Friday, 12/30. We will resume our normal business hours and operations when we reopen on Monday, 1/2/23.
Please send inquiries to info@archetypelighting.com during our closure. Our team will get back to you upon our January 2nd return.