Illuminate your favorite potted plants and garden features with this set of sleek, discrete spikes. Visit the A Team at Light! Design Expo for a chance to win your own!
---
One lucky Light! Design Expo attendee will walk away with a set of two stainless steel LuxR LED Micro Spike Spots courtesy of the exterior lighting pros at Hunza/LuxR.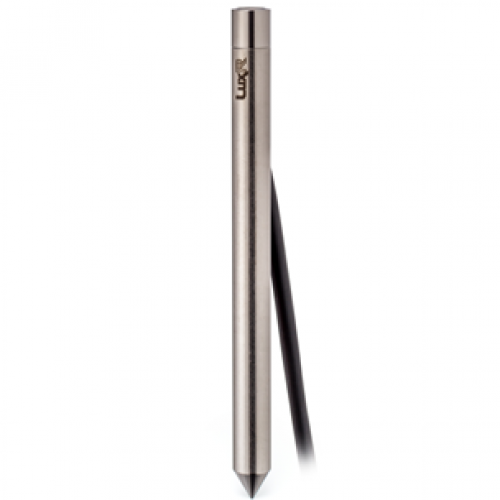 Light! Design Expo Hunza/LuxR Giveaway
Product: Micro Spike Spot
Material: Stainless Steel, Beam: 37˚
Color Temperature: 3000K
Giveaway set comes with power source and will be configured for "plug-and-play" use.
It's no secret that we're big fans of LuxR's energy-efficient, sleekly discrete Micro Range. The series includes some of our all-time favorite compact solutions for delivering elegant outdoor glow. We can't wait to see who takes this set home!
How To Win the Set
Those registered to attend the free Light! Design Expo tradeshow on 7/21 are invited to visit us at booth 131 to enter our Extraordinary Lamp Giveaway. Once you check in at Archetype's booth, you'll have the opportunity to increase your odds of winning by engaging with the word-class lineup of lighting brands on display in Archetype's block at the expo.
We'll draw winners throughout the week following Light! Design Expo and will contact each via email to claim their prizes and indicate their preferred shipping address.
These Micro Spike Spots aren't the only extraordinary prize we'll be giving away. Learn more here.
Only those who attend Light! Design Expo on 7/21 will have the opportunity to participate. Light! Design Expo registration is free, but it's required. Sign up here.
If you're a trade professional attending the show, we encourage you to watch your inbox for emails from Archetype leading up to the tradeshow. There are more surprises in store, and we don't want you to miss them! If you're not already on our mailing list, please sign up here.
Experience Hunza & LuxR LED at Light! Design Expo
New Zealand-based sister brands Hunza and LuxR LED produce high-quality, built-to-last, energy efficient luminaires suited for a wide variety of budgets and applications. Together, they offer just about everything you need to illuminate backyards, walking paths, courtyards, patios and deck areas: step lights, recessed in-grade fixtures, spot and flood lights, bollards, catenary-mount fixtures, pool and spa lights, pond lighting, and of course, loads of tools for illuminating landscape elements.
Though both brands deliver excellent products for residential, hospitality and commercial landscape design projects, Hunza's professional lighting tools are some of the best out there for large estates, commercial campuses, resorts and complex exterior projects with specific technical lighting requirements that call for clever, innovative solutions.
The Hunza/LuxR team's Light! Design Expo display will feature a wide variety of their most popular exterior fixtures, and they'll be showcasing Hunza's brand new Liquid Beam series of intelligent RBGW and tunable white luminaires featuring a solid state light beam that can be adjusted via Bluetooth using a simple app interface.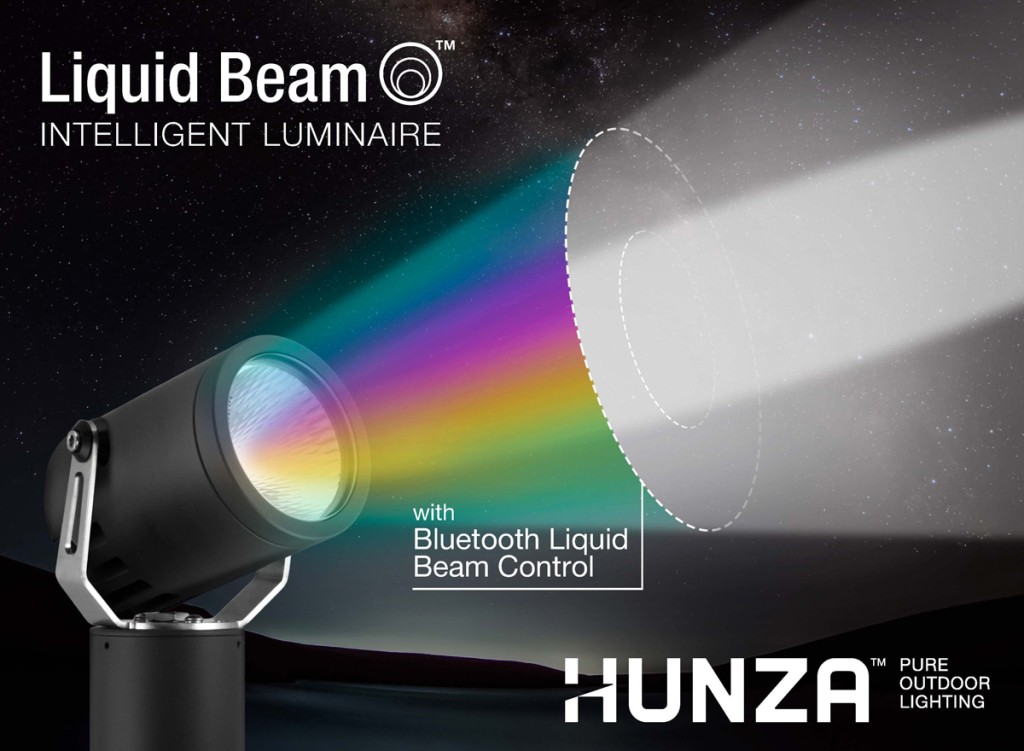 Want to learn more about the new Liquid Beam series? Whether you're planning to join us at Light! Design Expo or not, we're here to help you bring Hunza and LuxR to exterior environments in Northern California and Hawaii. Contact us for additional product information, specifications support, quotes and more.
Archetype will be at Pier 27 with Hunza/LuxR LED plus a diverse array of additional innovators in the word of light from 11:30am until 8pm on Thursday, 7/21. The magic starts when you check in with Archetype at booth 131. Learn more here.
More About Light! Design Expo
IES San Francisco's 2022 Light! Design Expo is the place for California's AEC professionals to experience all things new, innovative and extraordinary in light. During the expo, you'll enjoy a full day of lighting displays and seminars carefully curated for the region's architecture, design and construction community. Registration is free (and required), and it comes with free food, free CEU opportunities, and exposure to 140 lighting exhibitors who will be showcasing their most innovative products all throughout the day. It all happens on 7/21 from 11:30am-8pm at Pier 27 in San Francisco.
---
About Archetype
Archetype Lighting is a San Francisco-based manufacturers representative that connects Northern California and Hawaii's professional trade communities with extraordinary lighting brands from around the globe. See our line card for a list of our extraordinary brands.