Update for the week of August 30, 2021
Tools for healthy, serene work environments.
Welcome the workforce back to spaces where employers and their staff can feel safe, confident and free to focus.
Safe, Clean Spaces
Welcome to the new normal! As workers continue to shift back to office spaces, COVID safety is still top of mind. These lighting solutions and furnishings are great options for creating and maintaining work environments that are hygienic, adaptable enough to accommodate changing social distancing needs, and ultimately better-equipped to prevent the spread of COVID-19 and other illnesses.
Keep It Clean With Wipeable Shades
The pandemic has left us all hyper-aware of the importance of cleanliness–especially in shared environments. Deep cleaning and surface disinfection are a long-term reality for employers keeping facilities open to staff. When choosing lamps that will be positioned within reach of employees and their work spaces, steer clear of options with porous, uncoated surfaces to avoid complications when it's time to disinfect.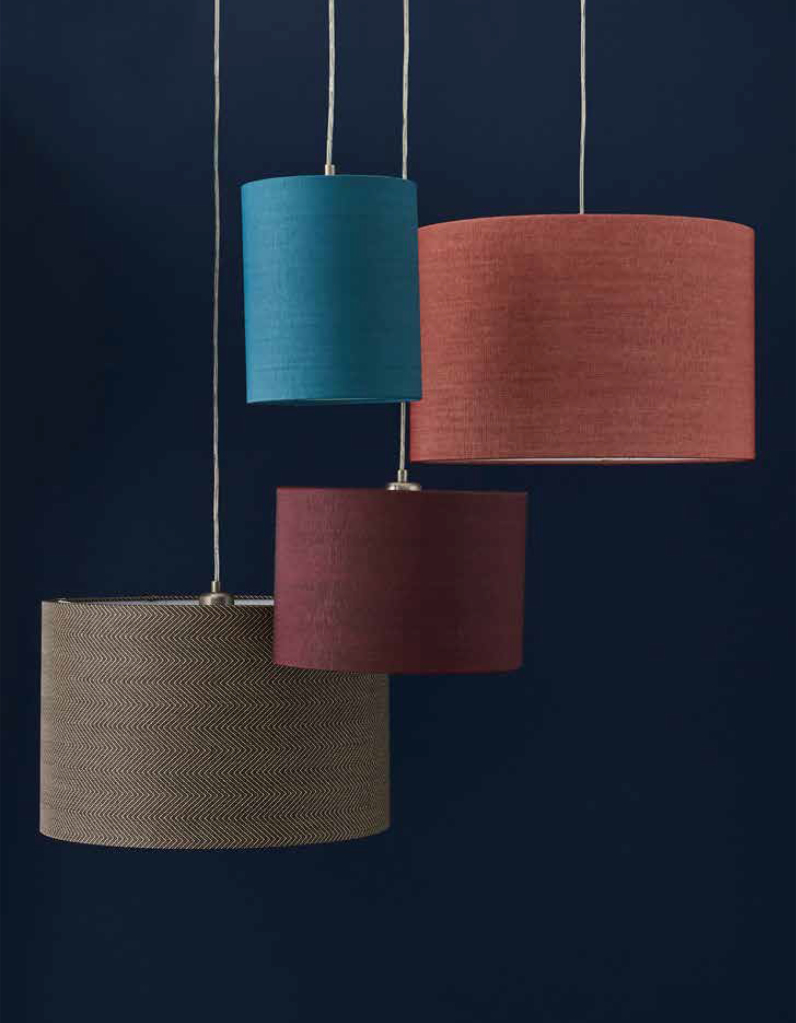 Stafford by Innermost is a contemporary collection of wipeable shades treated with an antibacterial, mold-resistant coating. Perfect for wall, table and floor lamps situated near desks and work stations. The material also makes an excellent wall covering and can be supplied in a roll.
Social Distance In Style!
Partitions and dividers come in handy when work stations need to be reconfigured in response to evolving social distancing policies. Why settle for a plain plexiglass barrier when you can integrate protection into any of these stylish dividers? Each of the below screens can be ordered with an optional plexiglass add-on, making them perfect tools for creating and maintaining workplaces that are flexible, adaptable and safe to share.
Groove by LZF Lamps
The Groove screen, with its chic mid-century aesthetic, brings a sense of motion to the spaces it occupies. Add an optional transparent methacrylate sheet to use this floor-standing divider as a tool for separating and shielding work stations. Shown here in a natural cherry wood finish, Groove also comes in brightly colored red and orange finishes for a more playful look.
View product specifications.
Download 3D files.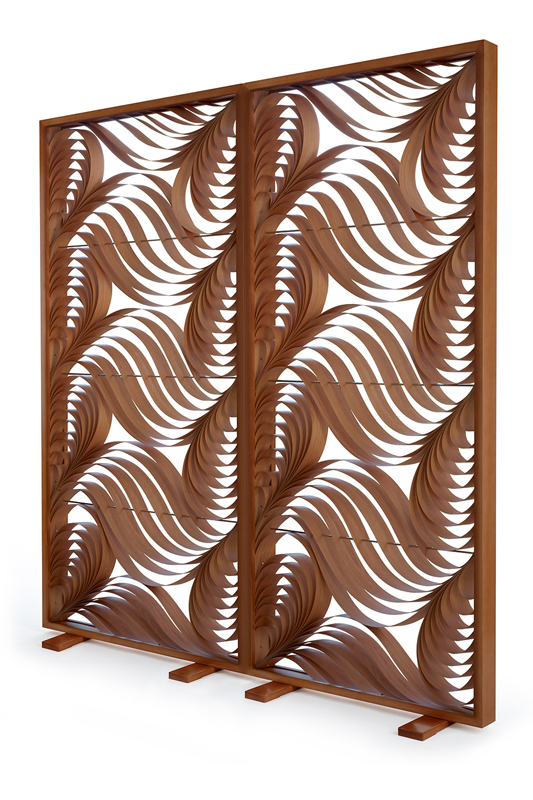 Paisley by LZF Lamps
This screen is a great tool for creating a soothing ambiance. Light shining through Paisley's delicate, flowing pattern dapples beautiful swirling shadows throughout the room. An optional plexiglass sheet can be affixed to this partition, making it a stylish, warm alternative to plain plexiglass barriers. Paisley is available in a variety of subtle, yet colorful finishes. See additional images here.
View product specifications.
Download 3D files.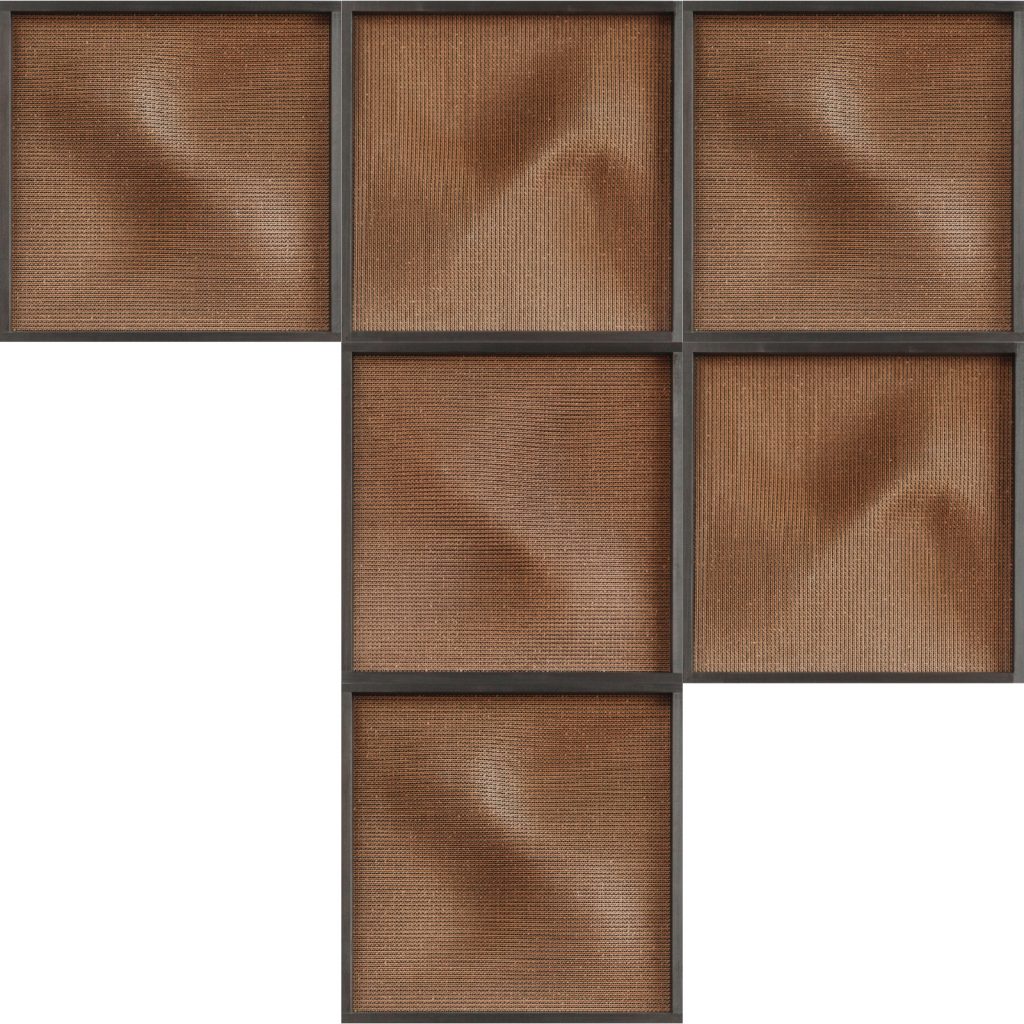 Wave by Graypants
These sculptural panels from Graypants are highly customizable. They come in a variety of sizes. Add optional plexiglass to use this as a COVID safety barrier. Made using recycled cardboard, Wave panels have the added benefit of possessing inherent sound-absorbing qualities. Contact us for additional specifications and product options.
Fight Back With Germicidal Lighting
Want to go the extra mile to keep COVID-19, influenza and other illnesses from spreading in the workplace? ETI Solid State Lighting's CleanAire and SilentAire products use germicidal ultraviolet (GUV) light to actually fight COVID-19 and other infectious pathogens. Learn more about GUV.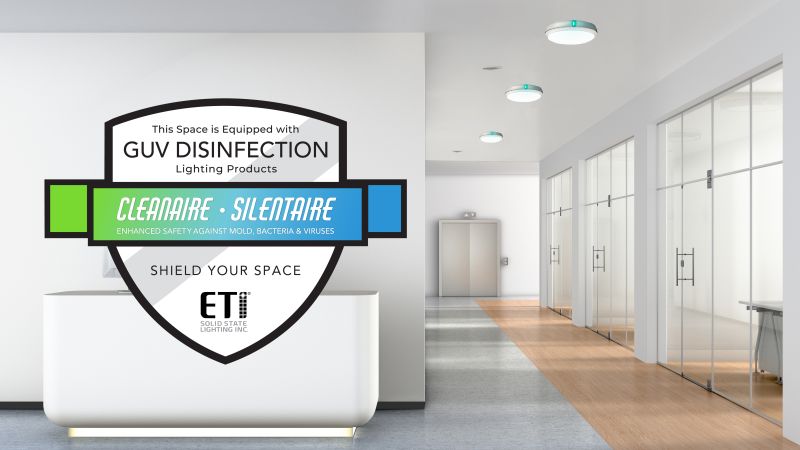 The SilentAire line includes a range of architectural fixtures ideal for illuminating and protecting shared work environments. Each is equipped with an ultra-quiet air circulation system that kills pathogens. Air is disinfected in a sealed UVC chamber, keeping those occupying the space protected from direct UVC exposure. The system is 100% safe for people and pets.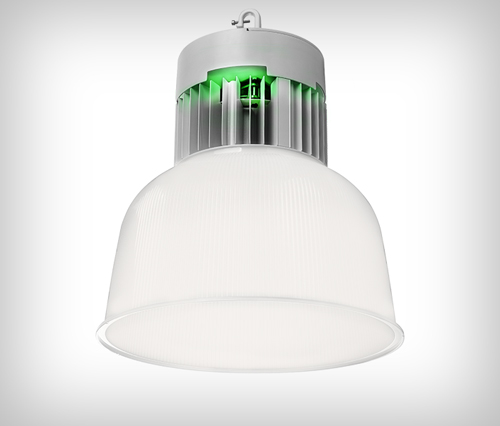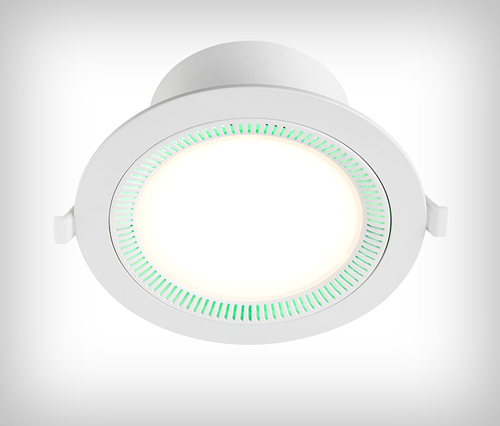 ---
Peace & Quiet
For most, the past year-and-a-half has been a time of constant churn. With much of the workforce returning to the office on a hybrid schedule, it helps to have a distraction-free, calm office environment where getting back into the swing of things is no chore at all. Incorporate sound-absorbing acoustic elements to deliver calm, productive, environments that let workers focus on doing their best work.

Acoustic Features
These stylishly modern acoustic elements serve a dual purpose, accounting for lighting needs while they absorb sound.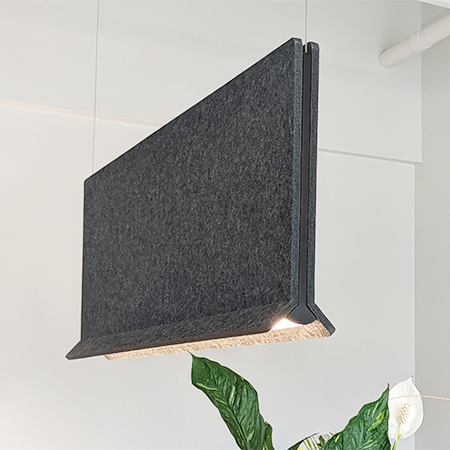 Split by Arancia
This standalone hanging LED fixture can be used to provide either direct or indirect light. Its felted exterior is perfect for absorbing sound in spaces with open floor plans or high ceilings. Available in different lengths, colors, finishes and sizes.
View product specifications.
Download 3D files.
Geometric Sound-Absorbing Suspension Luminaires
These modern, minimalist geometric felt panels have excellent acoustic properties. Each features an acrylic ring of light that helps illuminate office environments. Available in a variety of sizes and colors that can be mixed and matched for added interest.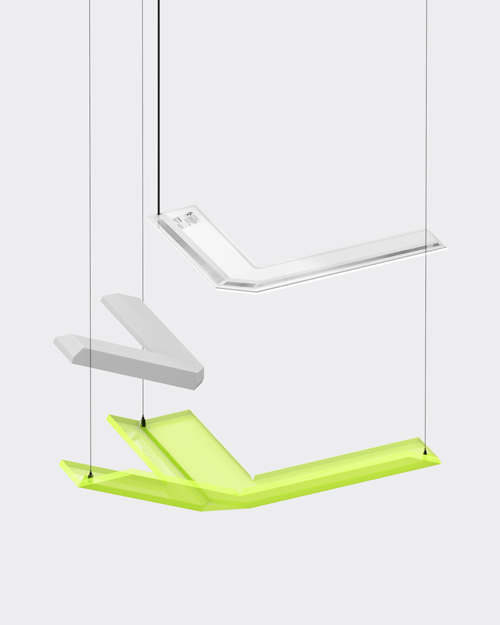 Prop Ceiling System by Graypants
These perforated steel panels can be configured into patterned ceiling systems that are as functional as they are attractive. Panels can be outfitted with either an LED lighting insert or a sound-absorbing foam insert.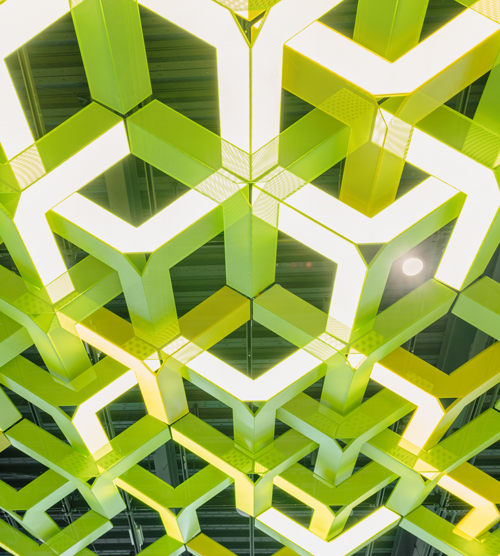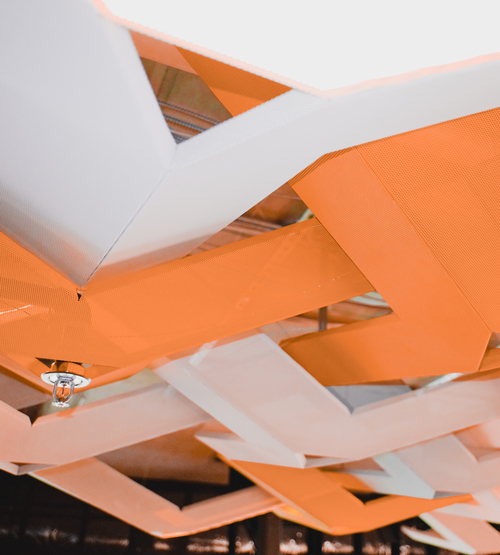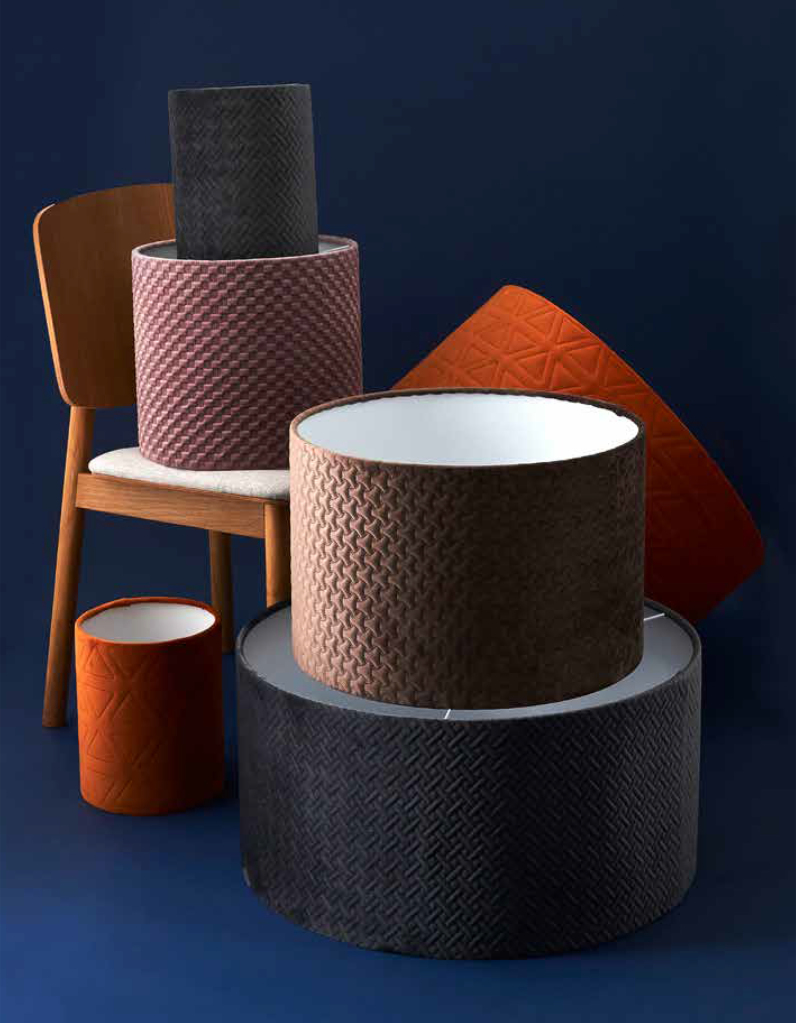 Harrogate Shades by Innermost
These shades are covered in a luxuriously thick quilted material with impressive sound-absorbing qualities. To maximize acoustic absorbency, combine them with Innermost's Drop LED fitting. The shade is available in a variety of different sizes and shapes and the Harrogate material comes in a range of rich colors and textures.
---
About Archetype
Archetype Lighting Sales is a San Francisco-based manufacturers' representative that connects Northern California and Hawaii's professional trade communities with extraordinary lighting brands from around the globe. See our line card for a full list of exceptional lighting manufacturers.