Update for the week of May 28, 2019
See Sensational New Linear Luminaires from Lux Illuminaire July 11 in San Francisco
Come see the highly original new linear solutions, AX.5, ARX.3 and LUX at Light! Design Expo in booth #77. Lux Illuminaire will be showcasing these and other latest and greatest, made-in-the-USA lighting products.
Join Us at Light! Design Expo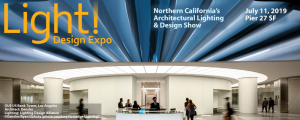 Light! Design Expo is Northern California's premier lighting showcase. Join Archetype for a one-of-a-kind opportunity to learn about lighting trends and to see the latest and greatest product innovations. Come mingle with fellow architects, designers and other lighting professionals while enjoying amazing views of the San Francisco Bay waterfront. Admission is FREE.
Thursday, July 11
11:30 AM – 8:00 PM
Pier 27 Cruise Terminal
Embarcadero, San Francisco
Seek Out the Elite and the Extraordinary
See All the Exhibiting Archetype Brands All Together. Architectural. Decorative. Exterior. We rep the best in every category. Italy. Spain. Denmark. Germany. New Zealand. United Kingdom. Belgium. Canada. USA. Don't miss your chance to see many of the finest lighting products from all around the world.