Update for the week of January 10, 2021

Join us online via Zoom to learn about exciting new products, innovative solution sets and more. And for 2021, we're now adding virtual tours of our manufacturers' showrooms and studios into the mix. Our Light Matters webinars and tours are short, sweet and to the point. Please RSVP below to receive details.
Tuesday, January 19
Virtual Zaniboni Lighting Tour + Product Review
10:00 am  and 2:oo pm – 20 Minutes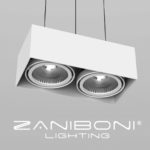 Join Archetype and Zaniboni Lighting President and Founder Fabio Zaniboni as he virtually leads us through his company's Florida showroom and design studios. Get an up-close look at Zaniboni's broad array of ethereal and and functional lighting solutions including trim and trimless downlights, direct and indirect cylinders, multihead spotlights, mini track lighting and the popular new Tibi decorative series.
As a bonus for attending, we'll hold a raffle for $50 Amazon gift cards each session.
> RSVP for 1o:00 AM
> RSVP for 2:00 PM