Update for the week of November 14, 2019
Craftsmanship Meets Character in Cerno's Newest Indoor and Outdoor Lighting
Southern California designers and manufacturers, Cerno, have been busy introducing many new indoor and outdoor lighting fixtures. Ideal for commercial, residential and hospitality environments, their contemporary take on mid-century modern aesthetics and handcrafted fabrication have been winning over fans for 10 years. Have a look at their latest and greatest below, view the "making of" Penna video, then contact us to arrange a specifier visit in early 2020.
New Indoor
Click the images to learn more and to see additional photos.
  
         
  
  
New Outdoor
Click the images to learn more and to see additional photos.
Dark Sky compliant specifications available.
These fixtures are also available in indoor models.
           
Cerno Specifier Visits February 5 & 6
Cerno will be in town on February 5th and 6th and together we will be visiting specifiers throughout the Bay Area. This will be your best opportunity to meet the manufacturer (in person, at your office) and to see samples of their newest indoor and outdoor lighting wonders. Contact us to share your interest and to schedule an appointment.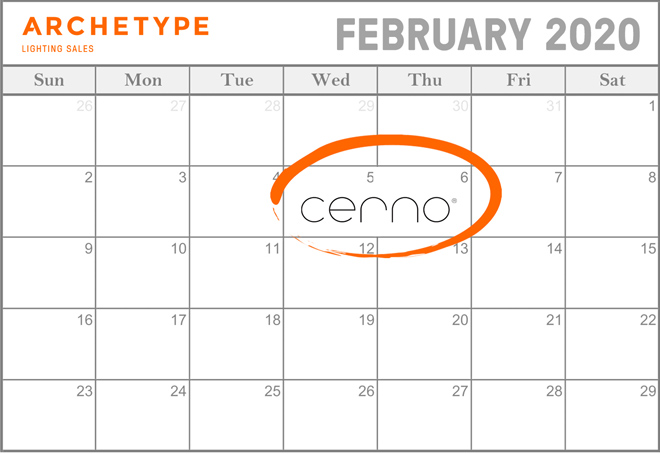 See More from Cerno
In addition to their newest creations, we'd wanted to share a few of our favorites and best-sellers with you, too. Click on the images to learn more and see additional photos of the Salix accent pendant, the Claudo and Osris wall sconces plus the Vix 82 linear pendant.
Watch the Design Process Unfold